Books on the NGS & it's Collectibles For Sale
Literature on the NGS and Collecting Back to the Link Page E - Mail Me
1935

This is a 1st Edition of Buxbaum's "Collecting National Geographic Magazines" (contents shown inset)... Aprox. 5" x 8" with paper wraps, this is the "granddaddy" of collector books. This example came unused in an original onionskin wrapper which is still with it. Very rare and Mint.

Click on Pic to Enlarge ....$225

1956

This is a Second Edition Buxbaum "Collectors Guide to the National Geographic Magazine"... 7" x 10"... This edition had some very authentic reproductions of early covers. These covers were also continued shown the next edition, but not in the 1971 edition. One has to feel the page to be sure it isn't an actual cover glued into the book. Shown here is the book cover, book spine (on the left of the cover) and the slipcover spine to the far left.

Click on Pic to Enlarge ....$175

1956

This is a Second Edition Buxbaum "Collectors Guide to the National Geographic Magazine" (above) showing a portion of the front of the slipcover with the contents page superimposed.

Click on Pic to Enlarge ....see above
1962

This is a 3rd Edition Buxbaum "Collectors Guide to the National Geographic Magazine" (contents and the slip cover material are shown inset). Aprox. 7" x 10" This is a signed copy by Buxbaum (see Signed Items Category)

Click on Pic to Enlarge ....$155
1971

Last Edition Buxbaum "Collectors Guide to the National Geographic Magazine" (contents inset - slip cover material and spine shown also). Aprox. 9" x 12" Good Historic Perspective on collecting.

Click on Pic to Enlarge ....$195

1982

This is Roger Nathan's only edition, this is a very good reference on collecting for the early years. Even though many collectibles have surfaced since 1982, and ensuing years warrant an updated guide, Nathan's book remains a valuable reference for any collector.

See the Contents pages below.

Click on Pic to Enlarge (shown with DJ) ..I have one and need it, so it's not available at this time.
1982

This is Roger Nathan's only edition, shown without DJ. ....see above

Click on Pic to Enlarge
1982

This is Roger Nathan's only edition showing the Contents (continuous, top to bottom).

Click on Pic to Enlarge ....see above
circa 1971

This is a Signed Frontice Page to Buxbaum's last edition (special lettered presentation printing).

Click on Pic to Enlarge (from the collection of Ron Choquette) ....see below... not in my collection
circa 1971

This is a Buxbaum Leather Presentation Copy (lettered - see above).

Click on Pic to Enlarge (from the collection of Ron Choquette) ....see above... not in my collection

1963

This is the National Geographic Society book "Great Adventures with National Geographic"...while not strictly about the National Geographic Society history, it reflects on the Society's work. It is about the expeditions they sponsored and directed through the first 75 years of their history.

Click on Pic to Enlarge ....$30
1987

Following the example of the 75th Anniversary book, this 100 year book truly covers the Society history, photography, and mission to "...diffuse geographic knowledge." Great attention is given to the growth of the Society and the men who led it. Deluxe binding.

Click on Pic to Enlarge ....$85
1987

This is the book "National Geographic: Behind America's Lens on the World" written by Howard S. Abramson, who was a financial editor for the Washington Post. This independent work is boldly clear about the power, success, and the shortcomings of the World's Giant tax exempt publisher.

Click on Pic to Enlarge ....$35
1988

This is Don Smith's circular for collectors...7" x 10"...This 1988 version was 50 pages and appears to have cost $10 (if I read the front correctly). It was mimeographed very poorly but contained some useful information and rough price estimates. Included was a list of issues available from him (1915 and newer) with a note to call about any older magazines available.

Click on Pic to Enlarge ....$20

1988

This is the book "Odyssey: Photography at National Geographic" The book and exhibition at the Corcoran Gallery were supported in part by National Geographic. This book presents the evolution of the high end work of National Geographic Society photographers over time. The Books Section (goto the link page) lists the following Books on photography of the National Geographic Society: Images, The Photographs, National Geographic On Assignment -USA, Eye of the Beholder, and The Milestones.

Click on Pic to Enlarge ....$55

1993

This the book "Reading National Geographic." Written by an Anthropologist and a Sociologist, this book seems to be looking at the effects of the National Geographic Society Magazine, and it's photography, on those who read it. It's academic style is not likely to appeal to the typical National Geographic Society member.

Click on Pic to Enlarge ....Not in my Collection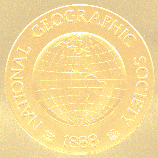 GO TO NG-COLLECTOR CENTER E - Mail Me